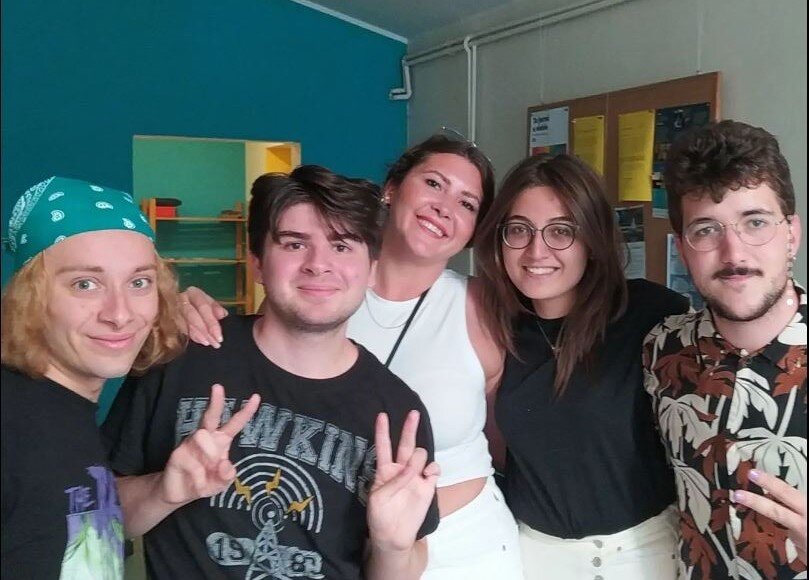 Hey! or Część! As we say in Poland! I am Bora, 19 years old, and I have just completed my 2nd week as a European Solidarity Corps volunteer at CIM HORYZONTY in Poznan, and I would like to share how our second week was!
We started our week with a workshop and watched a movie adapted from the book Little Women and had some discussions about it, and afterwards, we travelled around the city. I had my first ticket control in a Polish town, which was pretty interesting. The next day we had another workshop to get some ideas while volunteering with kids, and we started making a carpet from old clothes and cardboard, which was very creative. After the workshop, our friends played the guitar and sang songs in our office, and then we went to a mall in our free time. On Wednesday, we continued our workshop about making a carpet and finished it! After the workshop, We prepared an intercultural evening in one of our partner organizations, had presentations about our countries, and answered the listeners' questions. I also read a poem in my language 😊. On Thursday, some of our friends left Poznan to volunteer at a Festival on the southeastern border of Poland. The ones who stayed in Poznan visited our local summer partners with whom we will be volunteering, they were fascinating places, and I enjoyed the day except for the very hot weather 😀 Then we went to the office for our Forum Theater practice, which was super fun! Afterwards, we went to a park and chilled all together. On the last day of the week (so today for me), Some of our fellow volunteers arrived, and we met them. Then at the office, we brainstormed about workshops and presented them to our friends. To end the week, we went to Malta (a lake in Poznan, not the Island 😊) and relaxed there.
This was my second week of volunteering at CIM HORYZONTY, and it went too fast, and I had fun. I am looking forward to the next days!