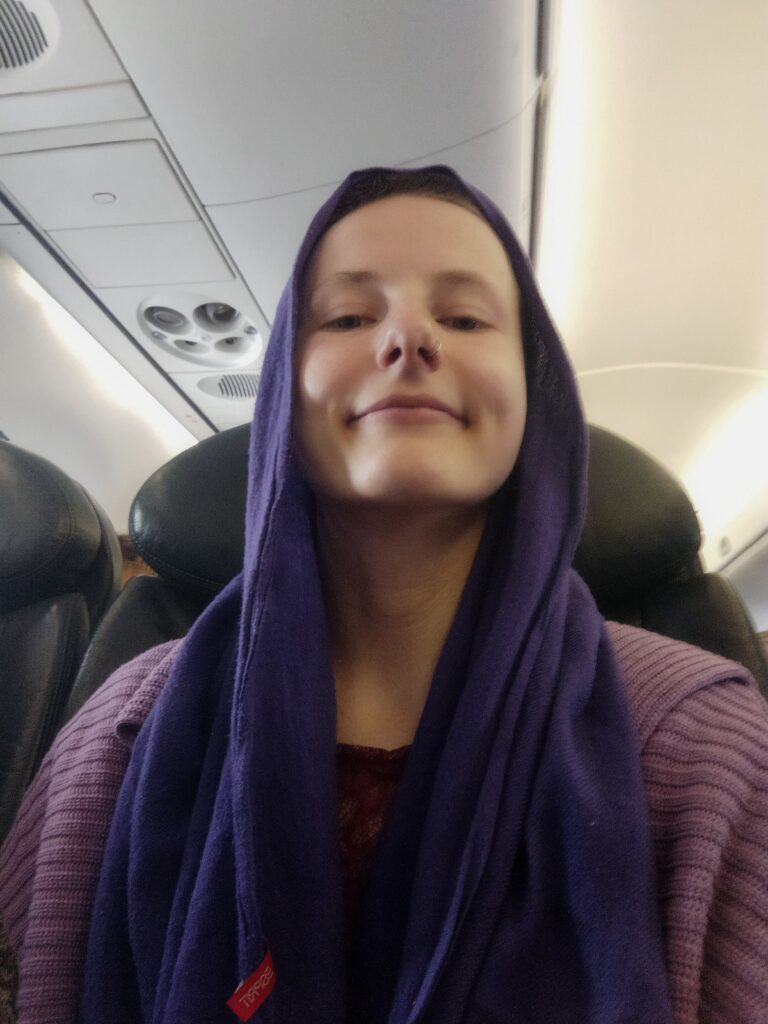 My name is Dominika and a few days ago I returned to Poland from a two-week artistic residence in the Bulgarian town of Targovishte. Those were days full of common creation, searching for verbal and non-verbal means of transmitting thoughts, feelings, and visions. During this time, I had the opportunity to experience finding myself among the local community – this place is a small town where, as I had the opportunity to hear, "everyone knows each other". I experienced this mutual "acquaintance" of the inhabitants every day, but I felt very warmly welcomed with my strangeness – and above all with curiosity and openness.
The weather was amazing during the residence – almost every day I climbed one of the hills that surrounded the whole of Targovishte. It was there that I could see the greatness and smallness of the city at the same time. I felt nature and birds singing. It was for me one of the most beautiful places where I could be connected with them. Together with three wonderful artists, who were also guests of the residence, we were going up the hill to observe the moon. We were able to see the phenomenon of the Blood Moon, which was as red and bloody as ever before.
I will remember this view for a long time and the moment of listening to the common songs that played in our hearts at that time. I got to know new views of the world through the sounds and stories behind them.
As for the music…. how many African sounds there were! Frank Mugisha, a dancer from Rwanda, surrounded us with his list of songs and it was also thanks to him that the end of the performance was created. It was a dance of two lovers who were connected with each other through the beauty of flowers. This dance was an invitation to all of us to experience it and for me, it was the most beautiful scene we could feel together. I recommend listening to the song "Malaika" by Yvan Buravan and feeling what we felt.
When talking about Bulgaria, I cannot forget about its beauty flowing from local folk art. It was a great pleasure to experience one of the most beautiful and probably the youngest so far that I have listened to a choir of traditional singing. "Patterned necklace", as this would be the Polish name, presented us with several pieces from different regions of Bulgaria. There was a lot in common with Polish traditional singing. In addition, there is a wonderful group of traditional dances in Targovishte! How much joy is there! How much energy is there for dancing! It was an amazing meeting, and despite the tiredness after a whole day of mental and bodily activity, I will remember very pleasantly learning the steps, shouting together, and the taste of freshly baked bread with which we were welcomed.
It was the greatest pleasure to meet the local painter – Galina Abadjimarinova, who opened the door to her magical studio for us. In the midst of a sea of colors and shapes, there were images that especially fused with me. One of them, titled "Tonight", brought back to my memory one memory, so important and yet forgotten. It was beautiful to come back to him through contact with art.
Between creating the show and exchanging experiences together, part of the group managed to choose a trip to experience the goodness flowing from the presence of the sea in Varna. In addition, we also visited the places of Pliska and Preslav. In the first one, we saw the ruins of the basilica, which made an amazing impression on me, even though it was only a reconstruction. In the second place, surrounded by nature, we gave small interviews about theater, projects and how we see the world. It was then that I realized how beautiful this experience is – to be able to express and build a verbal story and vision that will probably reach people completely unknown to me. I am grateful that I was given this opportunity.
It was also there in Preslav that I had the chance to see a tiny piece of Greek dramatic art presented by the
beautiful man Aris. He turned into a King, standing on a rock and having a mountain landscape behind him,
transported me to a completely different world. It was one of the most beautiful theater experiences, although it lasted a few minutes, I felt an eternity in it.
During our two-week stay, we jointly managed to create a mini performance based on short scenes. These
activities brought us closer together and allowed us to learn many personal stories, and thus discover new
connections where I had not expected them. I received a lot of love, support, and hugs throughout the period, and in between, I was filled with a smile and peace.
Thank you for this experience.
Bulgaria charmed me with its hospitality and the joy of being ❤️